Marketing has never been more prevalent than what it is today. Online marketing has opened the doors to a bevy of channels and platforms providing opportunities for businesses to connect with their customers in new ways.
Not only is marketing one of Australia's fastest growing fields for employment, but technology is rapidly and continually changing the way that it's done. Knowing what the P's of the marketing mix are in today's business world is a great start.
The traditional four Ps of marketing may have grown to the 5 Ps, 7 Ps, and even the 8 Ps of marketing (depending on who you ask), but the fundamentals of marketing remain. What's important is keeping up to date with the platforms, tools and methods available to effectively market your products and services.
 What is the marketing mix?
Marketing aims to build your brand and business. It can help you reach your customers, attract new ones and increase your profit. But before you plan your marketing, you need to have a clear understanding of your business, your customers and what you offer.
For decades the 4 Ps of Marketing (Product, Price, Promotion, Place) were recognised as the ideal marketing mix, but with changes to the marketing environment there have been a few more added to the mix to create the 7 Ps.
1. Product
Product refers to what you create or provide to meet the needs of your customers. It includes your products and services, as well as the features, benefits, and value that they offer customers.
2. Price
Price refers to your business pricing strategy and how customers pay for your products and services.
What's the price customers are prepared to pay for what you offer?
It's not as simple as naming a price. You need to consider:
how much demand there is for what you're offering
how much your customers are prepared to pay for it
your expenses and costs
3. Promotion
Communicating information about your products and services to your target customers is essential.
How are your products or services going to be communicated to the market?
You need to know which avenues and platforms are better suited to your potential customers. And how they'll find the messages you want to communicate to them.
Promotion can also include communication with your employees or anyone you partner with.
4. Place
Place refers to where your products and services are made, found, distributed, and sold.
Where are your customers shopping?
It might be a physical shopfront or online, or both. Customers want to be able to find you easily in either situation.
5. People
People are the backbone of a business, regardless of whether it's an individual or a team. Your people deal with your customers, either directly or indirectly and have a large part to play in your customer's experience.
It's important you have the right people to make your products and services a success. And it's just as important you nurture those people so they are trained, motivated, enthusiastic and represent your business well.
6. Process
What are the activities involved in delivering your products or services?
Dealing with your business should be as simple and as pleasant as possible for your customers. Not only do great processes increase your productivity, they'll also delight your customers and motivate them to come back for more.
7. Physical evidence
What do customers see when they engage or do business with you?
Think things like branding, your store or shop front (if you have one), website, and uniforms. It's things that give people an idea about the look and feel of your business
Consider everything about your business that can be seen and how it looks from a customer's perspective. Take every opportunity to reinforce your brand and portray your business in the best way possible.
Regardless of the type of business you want to market, these 7 Ps give you the foundation for creating an effective marketing strategy.
P's of Marketing with examples
Now you've got the idea of what the 7 Ps are, it's always great to see an example of what it actually means. The Australian Government business.gov.au page has put together a simple example that covers the first 5 Ps.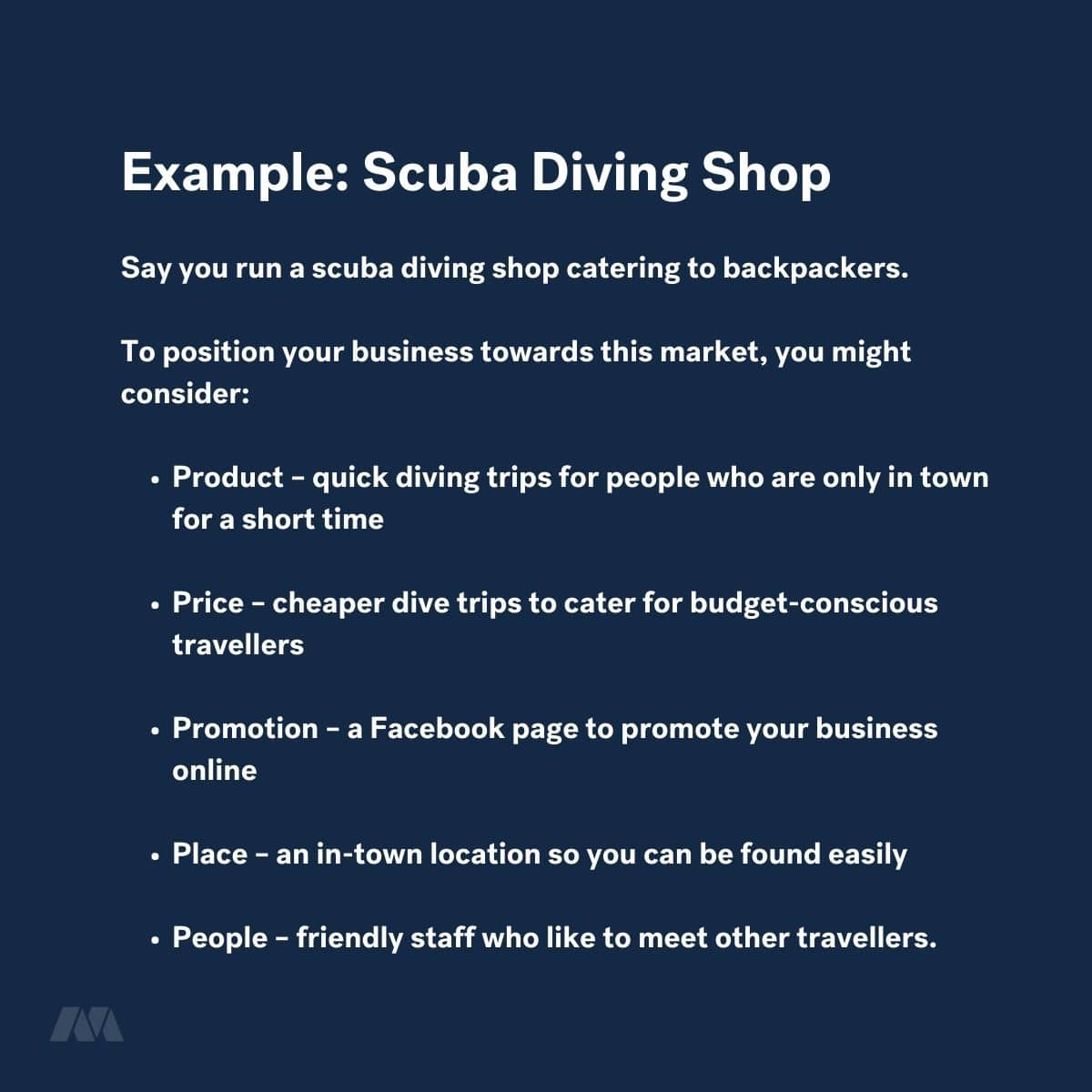 Source: business.gov.au
If we extend this to include the remaining two P's it could include the following:
Process – efficient online booking capabilities ideal for the backpack market
Physical evidence – You're fun but professional. You take safety seriously and you've got the accreditations, qualifications and approvals to prove it.
Although this may seem a little simplified, this example of the 7P's of marketing helps you understand there's more to effective marketing than writing a few social posts. Thinking about these aspects of a business and creating a plan around it will give you much better results for your efforts.
What does digital marketing involve?
The future for marketing professionals looks bright. Marketers need a broad skill set. The PWC Industry Sectors Outlook Report, 2021 predicts Digital marketing employment will increase by 22 percent by 2024.
It's fairly safe to assume almost all marketing roles involve digital marketing to some degree. Some of the skills a marketer needs are:
Communication
Time management to handle multiple projects
Collaboration and teamwork
Creativity and problem solving
Plus there are technical skills that specific job roles may look for including
Data analysis
Project and people management
Copywriting
Website management
The good news is that you can learn all of these skills. A marketing qualification or short course will teach you the skills employers are looking for and help you find opportunities in the industry.
One of the great benefits of a career in marketing is the choice you'll have. There are many different disciplines to choose from and you can choose from any industry you like. Plus there will be variety in what you do every day.
How do you become a marketer?
If you're interested in a career in marketing, there are a number of different pathways available to get the training and qualifications you need to break into the industry.
Certificate IV and diploma graduates work in a wide range of roles across many industries including as marketing and communication assistants to digital marketing coordinators and social media marketing managers. Monarch Institute's marketing courses can also be a pathway to further study at university level.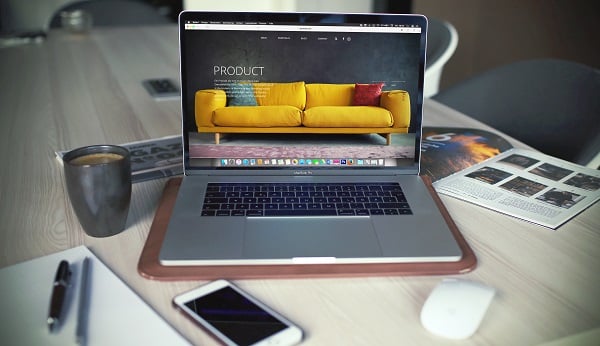 What types of marketing jobs are there?
Many businesses find it challenging to do effective marketing because of a lack of time and resources. The changing nature of marketing to include new technology and new channels often needs specialised skills and knowledge to be done well.
Technological advances have made customers more connected and informed than ever before. The internet means everyone has more choices. To meet the changing expectations and behaviours of how customers buy, marketers need to know how best to relate and communicate at the customer's level
Most businesses recognise the need to either employ marketing specialists or outsource their marketing needs to professionals. The upside of this is that marketing jobs can be found across almost any industry.
Some marketing roles include
Content writer
SEO specialist
Public relations
Marketing Coordinator or Manager
Digital Marketer
Market Analyst
Monarch Institute Marketing Diplomas and Courses
Monarch Institute has a range of marketing courses and qualifications to get you prepared for a career in marketing. Diploma of Digital Marketing or Marketing and Communication are comprehensive courses to give you the skills employers want. Or if you'd prefer to dip your toe in first, or upskill in a specific area, you can choose from a range of marketing short courses.
All Monarch Institute courses are delivered online and are flexible. That means you can balance study with existing work and other life commitments.
With support where and when you need it, you can feel confident you can get the skills needed to secure the marketing job of your dreams. Chat to a Course Consultant about your options today on 1300 738 955.