A LinkedIn profile allows you to gain more exposure with the people and businesses across industries that may lead to new job opportunities. With a professional profile, you can put your talent and qualifications out there for all to see. But it's so much more than that.
There are several advantages to creating a LinkedIn profile, including the connections. LinkedIn has over 310 million active monthly users and with such a huge pool of professionals, can make your current job easier too. Think of the old days of networking in person – now we're doing this online, and LinkedIn is the place to be.
If you're wondering how to create a LinkedIn profile that stands out, look no further. We'll walk you through each crucial step that answers the question of how to set up a LinkedIn profile and show you how to maximise your LinkedIn profile once it's up and running.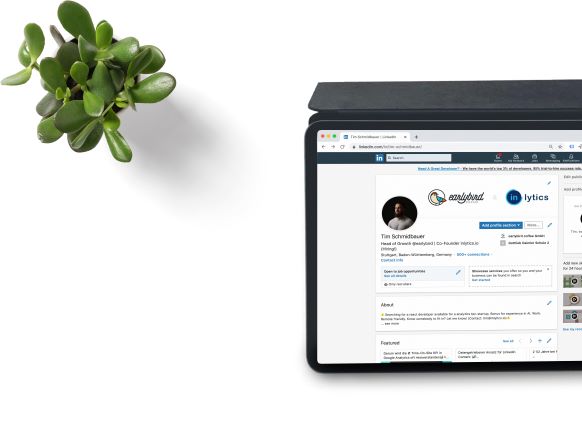 Why you need a LinkedIn profile
A LinkedIn profile can be likened to your professional landing page. It has your career summary, your interests, and your background. As a result, before making most educational and employment-related decisions, those in charge will take a look at your LinkedIn profile. This is even more reason to have the best LinkedIn profile.
Before we discuss how to create a LinkedIn profile, you should know why you need one.
Professional achievements
There is no better place to celebrate and showcase your success than on your LinkedIn profile. Your professional achievements such as anniversaries, promotions, and new jobs can be seen by your connections. Displaying your achievements helps in network building as your connections will celebrate with you.
Also, when you display your personal achievements, you can easily track your milestones. By doing this, you're motivating yourself to do better, whether educationally or professionally. To cap it off, updating your personal achievements gives you more exposure within your network.
Brand management
Yes, the word 'brand' may make you cringe, but we can't emphasise this enough. There's no better way to manage your personal brand than having a profile on LinkedIn. With a LinkedIn profile, you can manage your brand, seeing that you have full control over how it's run.
Also, you can manage the way the professional world experiences your views, qualifications and professional experience. Feel free to make custom changes to your profile whenever you wish. Having a customised profile also helps prospective recruiters to understand you better.
Get exposure
Globally, a huge chunk of recruiters use LinkedIn to seek their next candidates. If it's an international opportunity you seek, LinkedIn has over 562 million users. It's interesting to note that these users are from over 200 countries.
Knowing how to create a LinkedIn profile is your key to opportunity. With a professional LinkedIn profile, you can be seen by the right people for the right jobs and educational opportunities.
How to create a LinkedIn profile
Creating a LinkedIn profile isn't rocket science. Contrary to how many make it to seem, LinkedIn profiles are easy to create. Although there are rules to abide by, in minutes you can create a profile on LinkedIn.
In a step-by-step format, we'll guide you on how to create a LinkedIn profile.
Step one: The basics
Don't make the mistake of just using a random email address. It's imperative that you use an email you check often. Why is this important? Using an email address you check regularly means you'll be able to see all your LinkedIn notifications immediately when they come in. This could mean messages from potential recruiters, invitations to connect from people in your business network, job alerts, and more.
Also, the mobile number you fill in should be one that's in use. Including a mobile number allows recruiters to connect with you directly. You can permit LinkedIn to access your contact list. It allows you to connect with your existing contacts who are already on LinkedIn.
Additionally, LinkedIn will ask for your employment status. If you're a job seeker, you can use phrases that show you're seeking employment opportunities.
Step two: Select an account type
Currently, on LinkedIn, you have the option to choose between basic LinkedIn or LinkedIn Premium. However, note that the basic LinkedIn option is free while the premium version costs an additional fee. Although the premium option offers more features compared to the free plan, you can still get a lot from the free option.
Additionally, if you decide to go with the premium package, there are different options within it. Choose a package according to your needs. If you realise the package doesn't work for you, you can cancel. LinkedIn always gives a free trial period of one month, and even offers extended free trial offers from time to time.
Step three: Add a headshot
Having a good professional photo is part of what makes a good LinkedIn profile. If you want your LinkedIn profile to stand out, add a professional photo. It helps boost your credibility.
Also, LinkedIn users with a profile picture are more likely to get more views than those without. Bear in mind that how your audience views you largely depends on your profile photo. For this reason, you'll want to use your best professional photo.
Step four: Add your experience
For jobseekers wanting to know how to create a LinkedIn profile, this step is particularly important. List your job experiences both past and current in this section. You have the option of manually adding your experiences or importing a resume. Either way, ensure that it highlights your strengths and accomplishments so that potential employers can see them.
Don't downplay the use of keywords. Use keywords to help prospects find you easily. Don't forget to begin with the most recent job experience. Also, try to make your experience engaging for readers and an example of your personal voice.
Step five: Add your skills
Adding relevant skills to your profile displays your abilities to prospects. It gets better if your connections endorse your skills. Not only does it show you're indeed good at them, it increases your discoverability.
Also, LinkedIn has skill assessment tests that you can take. They show how proficient you are in the skills you added. When prospects see how proficient you are, you have a higher chance of getting a job.
Step six: Write an attractive headline
More often than not, many people new to the platform ask, "what is a LinkedIn headline?" Many people are unaware of the importance of the headline, so they leave it empty. The best LinkedIn profiles have attractive headlines.
Don't just write where you work and your position in the company, write what you're good at, what you're working on, or a recent accomplishment. A headline is more than your title or job position. As a job seeker, utilise this space and showcase your abilities. Once you can do this well, your profile will stand out.
Step seven: Your summary
Many LinkedIn users fail to realise how important this step is. Your summary is the part of your LinkedIn profile that allows recruiters and educational authorities to get a sense of who you are as a person. In essence, your summary allows you to express yourself in words, so make the best of it.
Furthermore, when writing your summary, avoid focusing on your experiences alone. You should include your strengths and skills. Also, use keywords that have an association with your field when writing your summary. You may want to take note of these.
Keep your summary brief and to the point
Don't shy away from showing your personality
Include your qualifications
Step eight: A customised URL
With a customised URL, you increase your discoverability. Hence, your URL should include your name or be unique to you. However, it's not unlikely that your chosen URL is already in use by another LinkedIn user. To retain your choice, you can tweak the URL a bit by including numbers or a special character.
After adding a customised URL you can check for any errors or typos. Ensure that all the information you supplied is correct. You can decide to use a grammar checker to ensure you're good to go. When you're done proofreading and editing, make your profile public.
Tips to Creating an Outstanding LinkedIn Profile
After learning how to create a LinkedIn profile, you need to know how to make it stand out. Currently, LinkedIn has over hundreds of millions of users. How then do you stand out from the crowd?
Remember – it's not a resume
Add recommendations
Take assessment tests
Post regularly
Share your published works
Join groups
Get more connections
Use numbers and bullet points when writing your summary
Avoid making your summary dull
Show enthusiasm
Showcase your achievements
Add a profile video
Create a professional portfolio
Getting the Best Out of Your LinkedIn Profile
When you know how to maximise your LinkedIn profile, you are sure to get the best out of it. However, there are things to steer clear of. Here are some common mistakes LinkedIn users make and how you can avoid them.
Giving it attention
Give it your full attention. When you water it, only then does it yield fruit. You can't expect your LinkedIn profile to skyrocket overnight – it takes patience and attention. Build connections, post regularly and engage with your network.
Use it the right way
LinkedIn may be a social media platform; however, you shouldn't use it like the others. This social media platform is strictly for professionals. Don't troll people on LinkedIn, post pics of your dog or use abusive words. LinkedIn should be used for your professional development and nothing more.
You know that you have maximised your LinkedIn profile when:
People begin to comment on your posts
You get more connection invitations
Your profile strength increases
You receive introductions to job opportunities
To sum it up
The most important step to your success is knowing how to create a LinkedIn profile.
Above we've discussed how you can gain from having a professional LinkedIn profile. Recruiters use LinkedIn to source candidates. As such, having a profile that highlights your strengths and abilities increases your chances of getting hired.
Also, we discuss how to create a LinkedIn profile. With relatable and easy steps, we lay down the process of creating the best LinkedIn profile. More importantly, we discuss things to avoid if you want to maximise your profile on LinkedIn.
You can get more recognition on LinkedIn if you have qualifications. Check out our online courses here and get in touch to chat about your future.