How to start your own business
Are you wanting to escape the 9 to 5 and start your own business? Do you want to work on your own terms with no one to report back to except yourself? You're not alone. In fact, each year thousands of Australians ditch their jobs to gain back their independence and the flexibility that comes from working for themselves.
To most, the idea of starting your own business has a distinct appeal. The thought of no longer having to deal with corporate hierarchy or workplace politics and of course no more long commutes. Sounds good, doesn't it?
While it does sound fantastic it's not always a bed of roses, and the challenges of 2020 have certainly taught us that. There's often a lot of long hours and hard work put into getting a new business off the ground and making it successful.
However, with the right mindset, a willingness to learn, planning, and dedication there's nothing stopping you from achieving your new business goals. This article explores how to start your own business and what traits you need to set yourself up as a business owner.
Create your business around something you love
One of the biggest mistakes people make when starting their business is basing their business on something that doesn't interest them. Instead they choose to build a business based on what's going to make them the most money.
Without doing something you're passionate about, or at least enjoy doing, then it will be difficult to sustain the energy you need to bring to business ownership long term. Starting a business doing something you love is such an important part of being successful as well as being dedicated to the long term success of the business. Because sometimes in business, the passion can fade and it's your dedication that will carry you through.
Skills you will need to start your own business
Business ownership isn't for the faint-hearted. It takes a lot of determination and grit to be successful. There are a few key skills you will need to help turn your business idea into a reality. Here are a few of the key areas of competencies you'll need when setting up and growing your business.
Communication and negotiation
In business you will need to communicate with numerous stakeholders and at times you will also have to negotiate. Having effective communication skills will help your business to run smoothly and help you to build good working relationships.
Leadership
If you have employees, then you'll need to have good leadership skills. It's important for you to motivate your employees to improve their productivity and get their best out of them. You'll also need to spend time coaching and mentoring them to take them on the journey of business growth.
Customer service and marketing
You'll need to know how to effectively promote your products and services to your target audience. Having a good marketing strategy in place and great customer service will help you to drive sales.
Financial management
As a business owner it's vital that you effectively manage your finances. The ups and downs of cash flow management can undo even the most confident of business startups. Having strong financial management skills is invaluable to ensuring your business is run profitably and is protected from financial risks.
Problem Solving
No matter how much planning you do, you will always face obstacles in your business. So, it's important you have the ability to overcome these challenges by making good decisions and being able to cope well under pressure.
Networking
Networking can help to improve your knowledge as well as meet and build professional relationships. It's a great way of putting yourself out there to business opportunities. Because at the end of the day, the best small businesses are built off the back of solid relationships.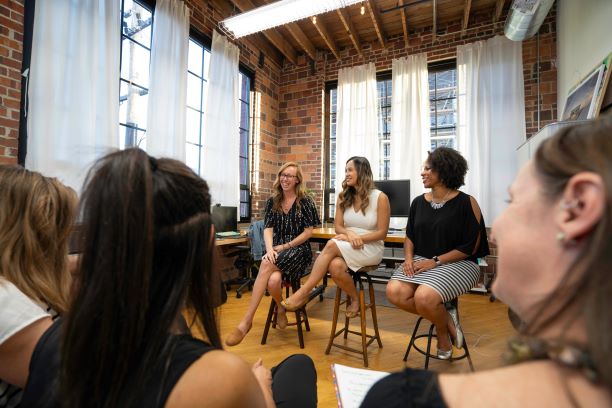 Time management
Staying on track with your time is a crucial skill to have when running your own business. At times effectively managing yor own time can mean delegating some work to others. This is something many business owners struggle with because they're often reluctant to give up control. By delegating the workload, you will be able to concentrate on the more important tasks at hand.
Knowledge is power
When starting your own business, you might have a great level of knowledge in your chosen field, but that doesn't necessarily mean you'll be a natural at being a business owner.
At Monarch we offer a Certificate IV in New Small Business which is designed to help you become a small business operator and gain invaluable real-world small business knowledge and skills.
You'll walk away with a comprehensive business plan you can put into action right away. From start to finish, you'll be guided by successful small business founders with modules including business planning, small business marketing and advanced business management.
Step-by-step guide to starting your own business
Sold on the idea of business ownership, but not sure where to start? As exciting as setting up your own business is, it's also very challenging at times, especially if you're not prepared for what's ahead. We have put together a list of key steps you will need to take in order to start your business on the right path.
1. Be sure you're ready
Start with doing some research on your business idea and analyse whether there is a market available to sell your product or service. Also think about the type of customers you are looking to target as well as assessing who your competitors are.
2. Lock in your business name and structure
One of the hardest choices when starting a business can be coming up with a suitable business name. Ideally you want to be able to choose a name that is easy to remember, different to your competitors and has available website domain names and social media handles.
You will also want to decide on the business structure which could be sole trader, partnership, company or trust.
3. Put a plan in place
Creating a business plan can help to give you direction in terms of the goals you set for yourself and the business. It's also a vital step if you need to get finance to launch your business.
A marketing plan is also beneficial to consider at this stage. So you can start off on the right foot in terms of reaching the right customers.
4. Register your business
Start with the basics of setting up your Australian Business Number (ABN) as well as registering your business name. It might also be suitable for you to register for GST at this stage too.
Then consider whether there are any licences or permits required for you to conduct your business activity. Before registering your website address and setting up email addresses too.
5. Understand tax
It's always handy to have an accountant who is experienced in working with small businesses assist you in setting up your accounting records. As well as making you aware of your tax obligations.
6. Know your legal obligations
Depending on the type of business you are looking to start, you may need legal assistance to understand leasing arrangement, fair trading and employment laws. As well as speak to a lawyer about understanding any contracts you enter into with clients or suppliers.
7. Reduce your risk exposure
Protecting your business and your personal assets becomes increasingly important as a business owner. Consider chatting to an insurance broker and sorting out your business insurances.
Also consider how and if there is a need to protect your intellectual property as well as having a business continuity plan in place should an emergency or incident occur.
8. Get your systems and processes set up
This can be something that many small business owners fail to set up in the initial stages of their business. But when it comes time to grow their team or the business experiences rapid growth, playing catch up in creating templates, standard operating procedures and business systems can be tricky.
So making time to set up your systems and processes right from the start can save you lots of time down the road.
To learn more in-depth information and to gain the skills you need to start your own business, enrol in Monarch Institute's Certificate IV in New Small Business course. This course is delivered with care and will provide you with unrivalled support. To discuss your options, or to chat more about the course content, get in touch with our course consultants today.