A Melbourne bookkeeping firm that helps tradies balance their books has found a simple but ingenious way to find great staff, despite a shortage of finance sector workers as a result of COVID-19 border
closures.
Vital Accounts' James and Sheridan Hukin don't waste time looking for highly qualified staff. They search for people with good organisation and communication skills – and the ability to "speak tradie".
Their firm helps construction businesses keep their books in shape, so new staff need an understanding of the tradie life.
"If they can speak tradie, that's half the battle," says James.
"Good people can learn on the job studying online with Monarch Institute to gain a Certificate IV in Bookkeeping."
It must be a winning formula. Vital Accounts was named Xero's Bookkeeping Partner of the Year in October 2021.
"Winning the award was incredible, and proves that we're onto something," James says.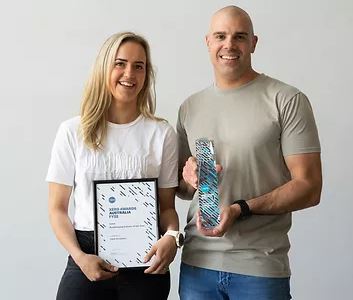 "Great staff don't have to start out with the highest qualifications. For me, being a trusted team member in a flexible work environment is much more important.
"If you can find people who are willing to learn, the rest is easy because Monarch's online course is so flexible. You can dip in and out when you have time.

"And in our business, it's all about flexibility because all of us have young kids, so we fit our work around family."
James is a big fan of Monarch's progressive approach to training. The entire team at Vital Accounts has enrolled in Monarch courses, slotting their study time between work and family.
"I can go online and answer the questions and do the assignments, then jump on and book a Zoom call and ask the trainers about any bits that I don't fully understand," James says. "The mentors point me in
the right direction.
"Our business aims to take the hassle away for tradies, and Monarch does the same for us when it comes to training.
"Our staff can go home and do the dinner, bath and bed routine with their kids. There's no stress about joining a lecture at a specific time. It's self-paced. It's just easy."