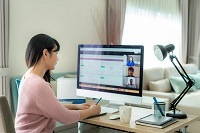 An accountant manages the finances of a business or individual. Accountants are responsible for analysing, interpreting and reporting on financial matters. And they're often responsible for fulfilling tax obligations.
But once you've earnt an accounting qualification there are a number of areas to further develop your skills and expertise.
A popular choice for those wanting to further themselves and their career opportunities is to become a Chartered Accountant.
But what is a Chartered Accountant? And what is the pathway to become one?
To become a Chartered Accountant and a member of the Institute of Chartered Accountants Australia, accounting professionals need to complete the Chartered Accountants Program. The program includes both a study component (Graduate Diploma of Chartered Accounting) and a minimum three years of practical experience, mentored by a Chartered Accountant.
There are many benefits to becoming a Chartered Accountant. And the course is recognised for a reason. It can be challenging and it requires commitment. This is because if you undertake the Chartered Accountant course you'll be working and studying at the same time for a few years.
Why become a chartered accountant?
When you become a Chartered Accountant you'll gain a competitive edge over accountants without it. Being a Chartered Accountant is an internationally recognised, respected and sought-after qualification. They earn an enviable reputation as leaders and experts in the accounting field. And this is deserved.
If you'd like to specialise in a particular technical function, then a Chartered Accountant qualification is a good choice. It can help you move into a financial controller or Chief Financial Officer role later in your career.
Chartered accountants have the added skills many businesses need. They are viewed as being reliable, trusted and having high levels of expertise. They're experts when it comes to tax and financial legislation.
Pathway to become a chartered accountant
Once you've qualified as an accountant, you'll need to do another course to become a Chartered Accountant.
The pathway to become a chartered accountant is quite rigorous, and the program standards are upheld to a high quality. But for motivated learners, becoming a Chartered Accountant will provide you with greater opportunities as your career progresses.
The Chartered Accountant Course
The Chartered Accountant Program is provided by Chartered Accountants Australia and New Zealand. Course content is geared heavily toward auditing and tax matters. From a technical perspective, if you obtain a Chartered Accountant qualification you'll be better placed to handle more complex accounting issues.
The Chartered Accountants Program is a thorough pathway designed to progress accounting graduates. The program provides candidates with industry leading training and knowledge, designed to set them apart from those without the qualification.
Steps to become a Chartered Accountant
1. Meet the entry requirements
If you studied in Australia you'll need to hold an accredited Bachelor Degree that covers certain competency areas. If your degree or qualification are not accredited there are alternate pathways you can follow. But it's important to know up-front what they are.
Find out what you'll be required to do, based on your individual situation by speaking with Chartered Accountants Australia and New Zealand.
2. Become a provisional member Chartered Accountants of Australia and New Zealand
Before you enrol in the Chartered Accountant Program or individual modules you need to apply for Provisional Membership.
You'll be asked to provide your academic qualification to be assessed, before being accepted as a Provisional Member.
3. Complete your CA Program studies and Practical Experience
Once your Provisional Membership application has been accepted, you'll be eligible to enrol in your first CA Program module. There are five academic modules to be completed for the program.
The practical experience component of the course also has specific criteria that needs to be met. Although experience can be completed before, during or after you study the program modules, it's best to ensure what you've done or planning to do meets the criteria. And it's approved.
4. Apply for full Chartered Accountant Membership
Once you've successfully completed the academic and practical experience components of the Chartered Accountant Program, you can apply for full Chartered Accountant Membership with Chartered Accountants Australia New Zealand.
Once it's been accepted you're a Chartered Accountant.
Accountant Salaries
Accountant salaries are usually based on experience, personal skills and qualifications. However, the industry and size of the company can also play a part in determining how much you'll be paid as an accountant.
Having experience and expertise in accounting software and data management can also be beneficial when negotiating your salary as an accountant.
Chartered accountants earning potential
If you become a Chartered Accountant you can expect to earn more than your counterparts. And that's because the Chartered Accountants Course gives you expertise in highly sought after areas.
Many businesses rely on the knowledge and skills of a chartered accountant to help them make strategic business decisions as well as ensuring they are meeting their tax and financial obligations. With that level of responsibility, you should be well paid.
With technology playing such an important role, the most in-demand chartered accountants will be those that have both great interpersonal skills and are technologically savvy.
Surveys show Chartered Accountants experience their biggest jump in salary about 5-10 years after they become chartered. So heading down the path of a Chartered Accountant is a career choice for the long haul. But one that will ultimately be rewarded.
Accounting courses to get you started
Monarch's Certificate IV in Accounting and Bookkeeping is ideal for independent learners ready to start their journey to become an accountant.
The course is a great foundation and pathway for those wanting to explore the world of accounting. It provides the basis for learners who then want to transition to a degree qualification. And in turn to a Chartered Accountant career.
The online delivery gives you the flexibility you need to balance your everyday commitments. Chat to a Course Consultant about your study options today on 1300 738 955.