Logistics and supply chain management involves the transfer of goods and services from the point of origin to the consumer. Both play a crucial role in many businesses.
Logistics and supply chain management include things such as:
Warehousing
Inventory
Purchasing
Transport
Distribution
A well-managed supply chain can largely influence the success of a business by reducing its operating expenses. There are many steps in the supply chain and therefore many opportunities to find efficiencies and cost reductions.
If done well, supply chain management can help businesses outperform their competitors by delivering products to their customers more quickly, efficiently and at a lower cost.
Difference between logistics and supply chain management
While many people think of supply chain management and logistics as the same thing, there are differences that you should be aware of.
While there are similarities between the two, if you're considering a career in the industry, knowing the role that each one plays will help you understand the industry a little more and what type of job may suit you.
Supply Chain Management – supply chain management coordinates the storage and shipping of goods and services across the supply chain. It often begins with raw materials, continues on to manufacturing and then to distribution. It ends when a business delivers the finished goods to the customer or when products arrive at their final destination.
Supply chain management is more comprehensive than logistics. It includes the coordination between businesses and people at each stage including sourcing, manufacturing, transporting, storing and selling the products.
Supply chain management can start with the development of raw materials into finished goods. These materials may need to be moved from supplier to supplier until they are a finished product. It then manages the moving of the goods from the producer to the warehouse, then to retailers and consumers.
Logistics – Logistics focuses on the movement and storage of items within the supply chain.
Logistics is all about the efficient and cost-effective delivery of goods to the customer. While supply chains involve sourcing, processing, manufacturing, and delivery of goods from the raw materials to the end customer. Logistics is the moving and storing of those goods between the different stages of the supply chain.
Procurement logistics and supply chain management
Another area in the industry is procurement logistics. Procurement is about choosing suppliers and negotiating with them for the best rates and services.
Often, when a business is looking to become more efficient, procurement and supply chain management are the go-to areas to find improved and more cost effective ways to do things. By examining their procurement process a business may be able to cut costs and negotiate better deals for the goods and services they use. Streamlining business processes for procurement can be a game changer for many businesses.
Logistics and supply chain management future
While we understand logistics and supply chain management are not the same thing it's important to remember they do supplement each other. One can't exist without the other.
More and more businesses need efficient logistics and supply chains. With more and more purchasing happening online our reliance on logistics and supply chains continues to increase.
According to the Australian Logistics Council, the quantity of goods being shipped to, from and across Australia will triple by the year 2050. The sector already generates just under $80 billion a year. And that is expected to continue to grow. With new technology emerging such as automation solutions, the industry is an exciting one to be a part of. Dynamic changes are expected as new advances are made in the industry.*
*Sources: Job Outlook, Labour Market Information Portal, Employment Projections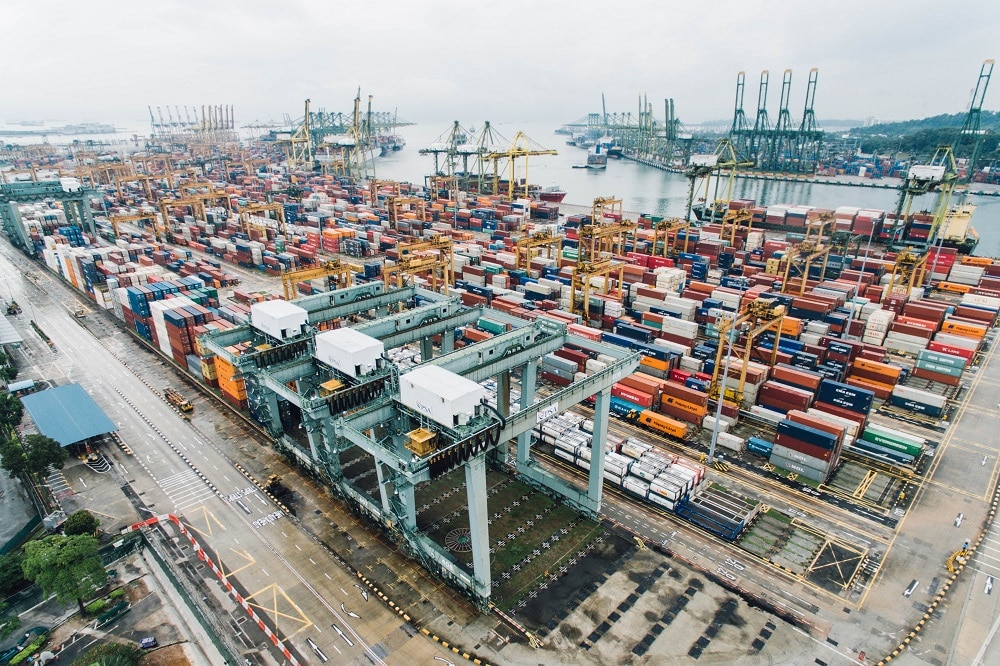 Supply chain management course
If you're interested in a career in logistics and supply chain management now is a great time to be part of the expected innovation phase the sector is entering. Demand for supply chain managers who can adapt and be flexible will be highly sought after.
Whether you want to work for a large company or a local business, completing a logistics or supply chain management course is highly regarded by employers. Choosing an industry recognised course is the best way to become job ready.
Monarch Institute offers a Diploma of Logistics that will give you comprehensive logistics knowledge and real-world industry skills. It covers the key areas needed for the logistics and supply chain industry.
Supply chain logistics
Safety & operational procedures
Monitoring & leading people performance
Logistics business management
Transport logistics
Not only is the course fully flexible and delivered online, but it is also delivered by industry experts and thought leaders.
Benefits of Monarch Institute's Diploma of Logistics
Monarch Institute courses have a reputation for producing job-ready graduates. Employers are looking for the skills that you'll learn as part of the course. Plus there are a range of other benefits to completing a Monarch Institute Course.
Government funding
If you live in Victoria you may be eligible for government funding. Monarch Institute currently has government funded places available for the Diploma of Logistics course.
Nationally recognised
The Diploma of Logistics is nationally recognised under the Australian Qualifications Framework. This means you can use it as a pathway to university qualifications around Australia.
Online and flexible
All course materials and assessments are online. Access is through Monarch's intuitive Learning Management System meaning you can complete the course at a time that suits you. Being completely online means you can balance the other commitments in your life with your study.
Industry trainers
You'll be fully supported by trainers who are experts in the industry. You can access trainer support through the Facebook group, email and Zoom.
You'll learn how to manage the flow of goods and resources in a global marketplace, develop project management and negotiation skills, as well as plan the handling, storage, and distribution of products. Taught by skilled professionals, you'll learn real skills so you're ready to start your first job.
What is logistics and supply chain management salary?
According to SEEK the average annual salary for Supply Chain Manager jobs in Australia ranges from $130,000 to $150,000.
As you gain experience you can expect some salaries to be even higher for professionals with expertise in logistics management, leadership and process improvement.
Salary ranges can vary widely depending on many important factors, including education, certifications, additional skills, and the number of years you have spent in your profession.
Another great indicator for the bright future of the industry is employment opportunities and positions are projected to grow by 6.5% by 2024.
Courses that give you skills employers are looking for
Supply chain networks and logistics can be complex. There's a real need for professionals in the industry to keep on top of the dynamic changes and advances the industry will continue to experience for years to come.
If you're thinking of a career in logistics and supply chain management choose a course that will give you the real-life skills employers are looking for. With Monarch's Diploma of Logistics, you'll be job-ready as soon as you complete the course.
Get in touch with one of our Course Consultants who can help you take the next step to an exciting career in logistics and supply chain management.